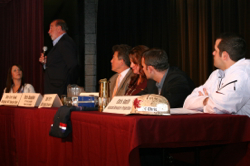 CHARLESTON – Chris Hamilton, senior vice president of the West Virginia Coal Association, joined other industry leaders in a panel discussion at George Washington High School, Wednesday, Oct. 16, on the importance of coal and the opportunities the industry provides West Virginia's young people.
Organized by Andrea Williams, an English teacher at the school, the panel focused on the personal success stories of the panelists, as well as an overview of the industry and its long term future in the state, as well as potential job opportunities it offers.
About 240 students attended the discussion, held in the school's auditorium.
The panel also included Roy Lee Cook, one of the original "Rocket Boys" from McDowell County made famous in the movie "October Sky," Juliet Terry, manager of Government Relations for Cliffs Natural Resources, Chris Smith, of Natural Resource Partners and Ryan Toler with Patriot Coal, general manager of Wells Complex in Boone County.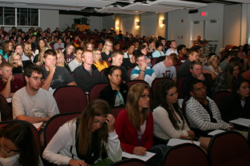 Williams said the germ of the idea for the panel discussion was a reading her students were having in English, Homer Hickam's "Red Helmet" novel. Hickam was another of the original "Rocket Boys" with Cook.
"I had polled my students about if they knew about the industry and they didn't know much," Williams said. "I thought a forum like this would be a good opportunity for them to learn. I wanted to expose them to the industry's experts and let them hear about the job opportunities and show them that coal relates to all fields.
Williams said the program's attendees, however, were a wide cross-section of the student population at George Washington and represented a new multi-curriculum focus to education.
"We are implementing the Next Generation Common Core across the state, and one of its focuses is to make connections across the curriculum," Williams said. "In English, for instance, we are trying to connect with social studies, so that students can see the two subjects have common things that can all be related. We had many different classes in the audience including Science, English, Math and others."
Williams said she was very happy with the way the day went and looks forward to expanding it next year.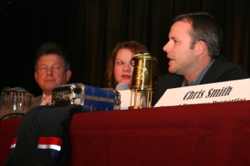 "I have had some real thought provoking conversations today," Williams said. "It has led to more of an interest in the next portion of our novel and our students were totally unaware of the opportunities. I am interested to see long-term what we accomplished."
Hamilton said he, too, hopes the experience will lead to more interaction in the school system statewide.
"We are happy to have been asked to take part in the discussion," Hamilton said. "It's not often we get to meet with high school kids and tell them about our industry in this kind of setting. We want to thank Ms. Williams and the other panelists for making today such a memorable event.
"Coal is the single most important economic engine in the state, and we would love the opportunity to tell our story to the next generation of kids, and let them know there is a future for them in the coal industry."